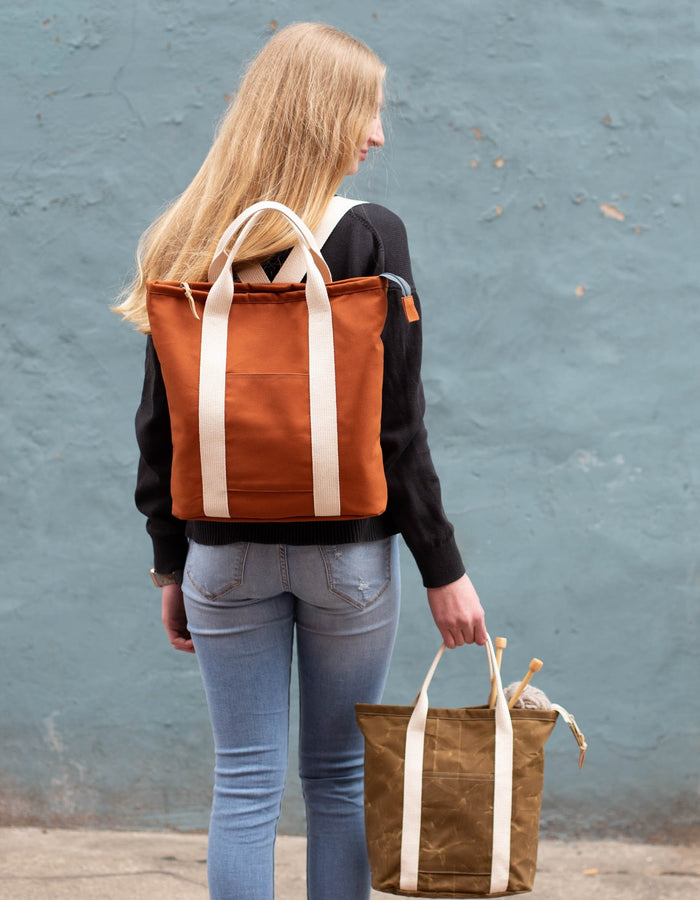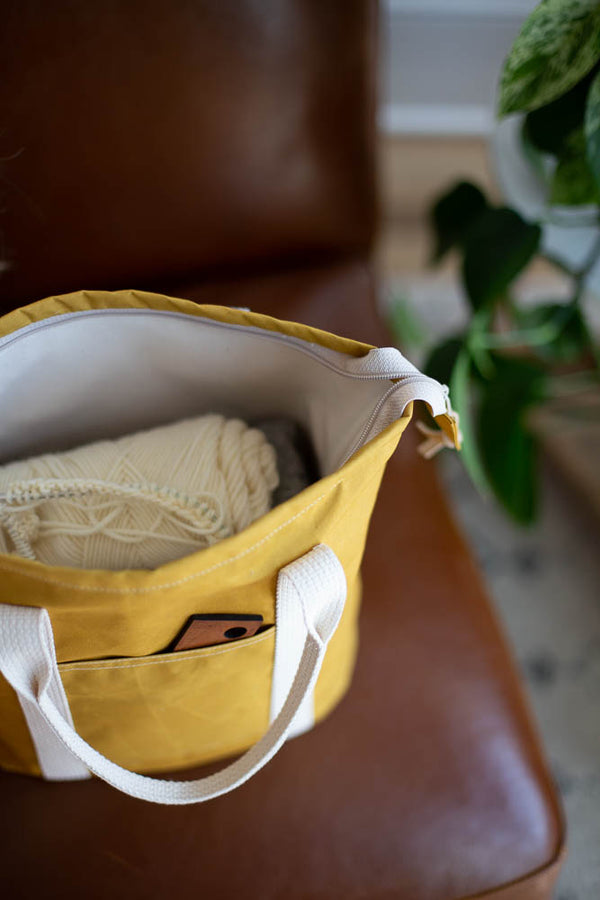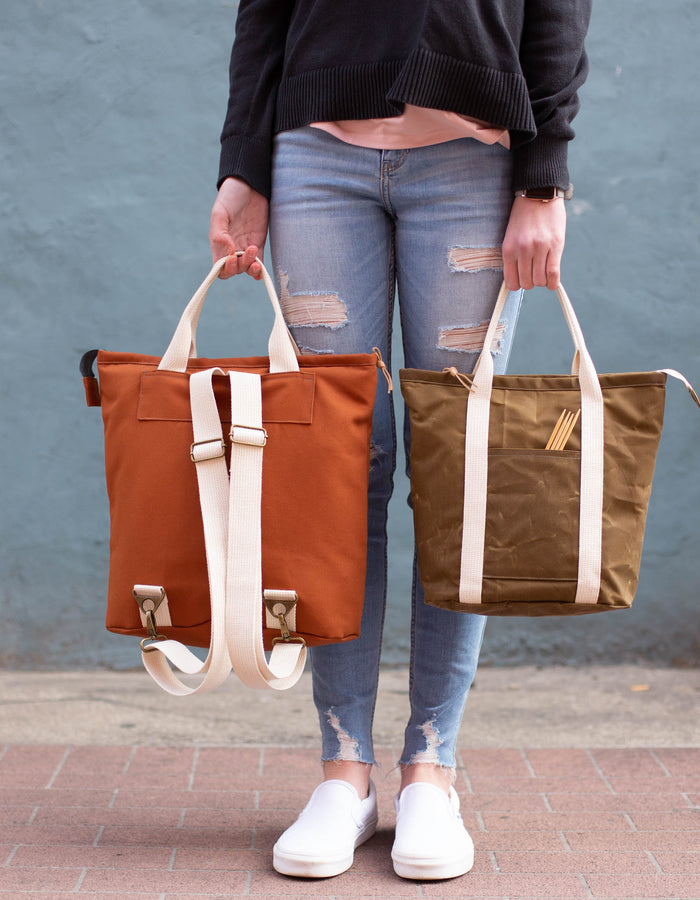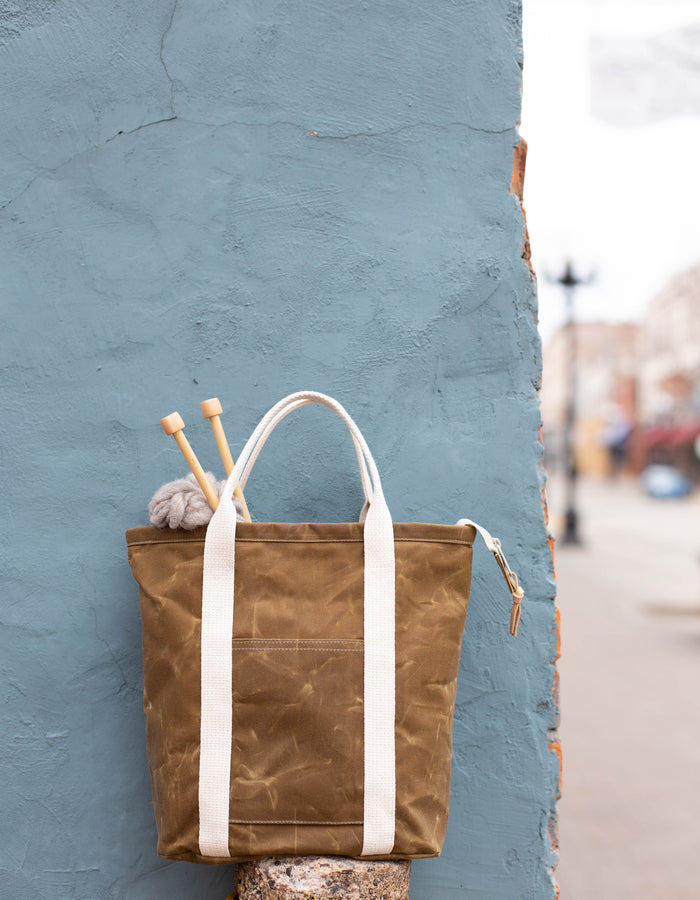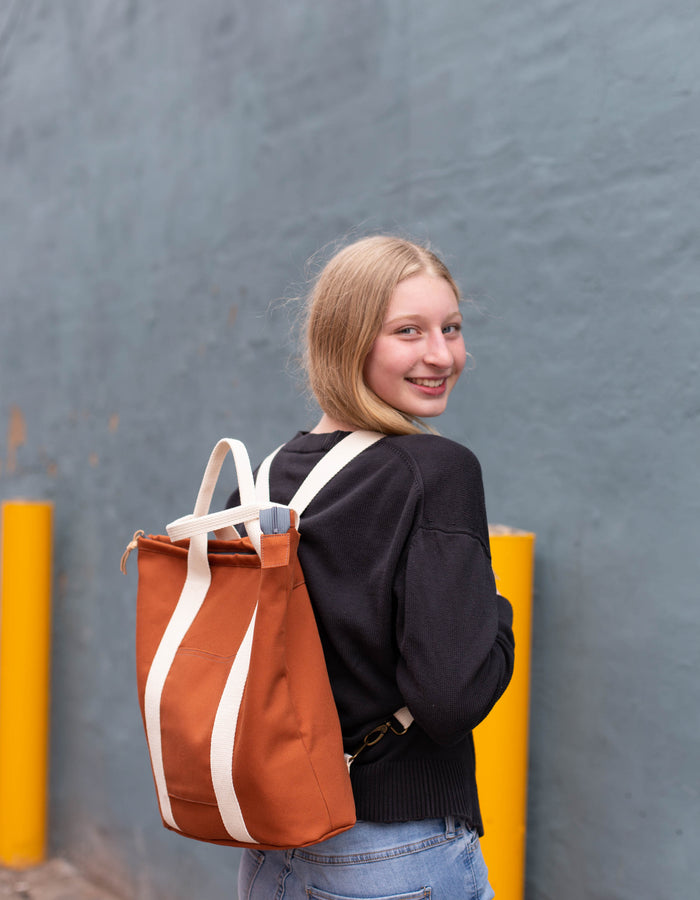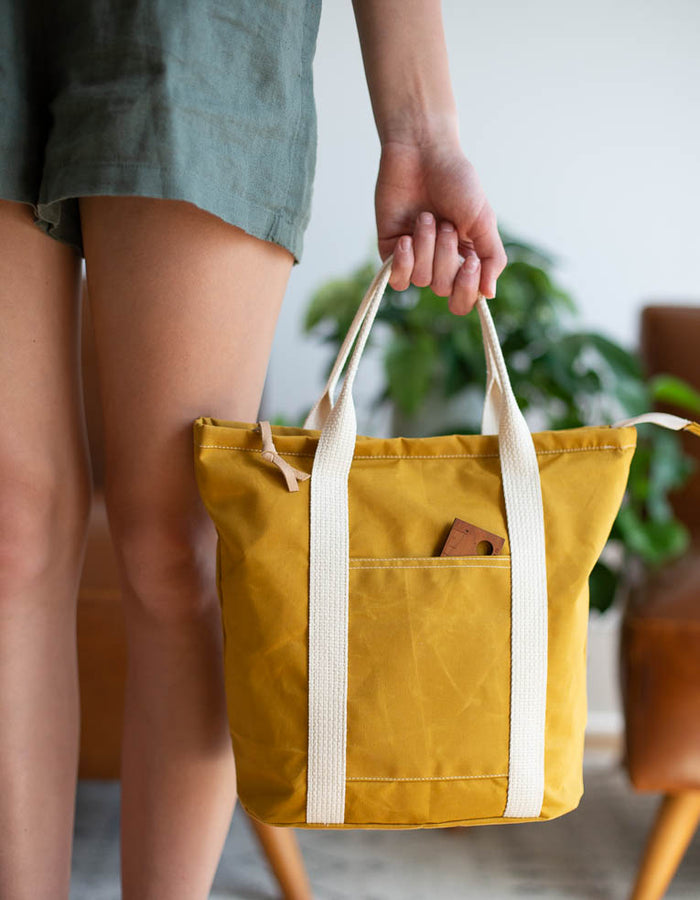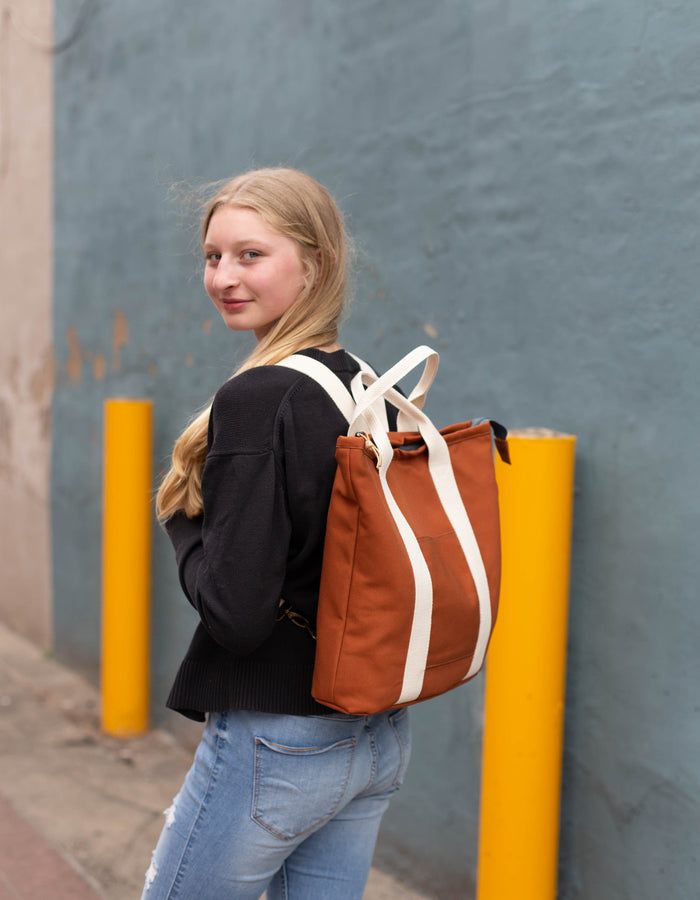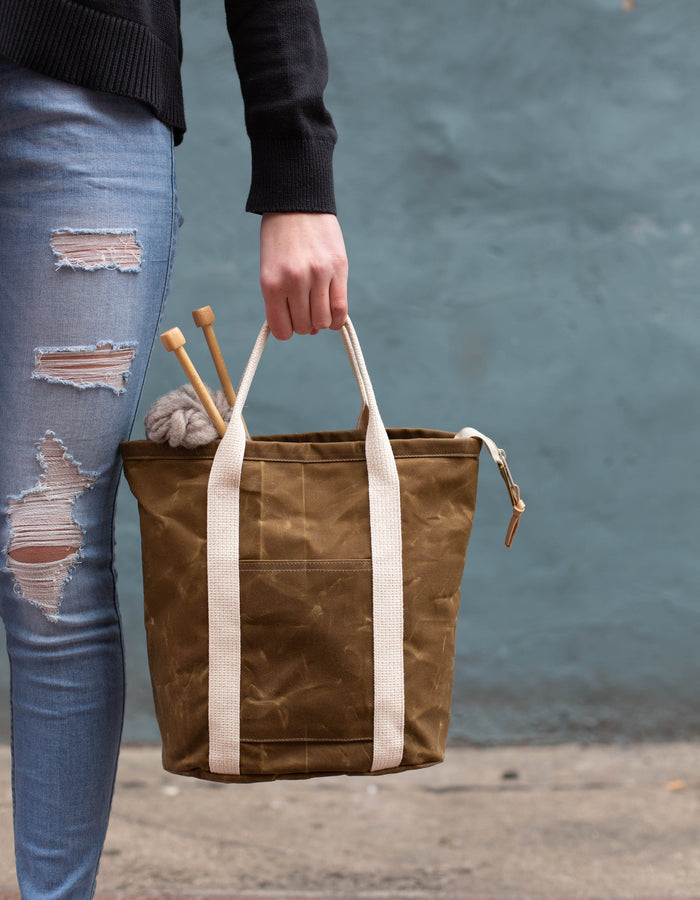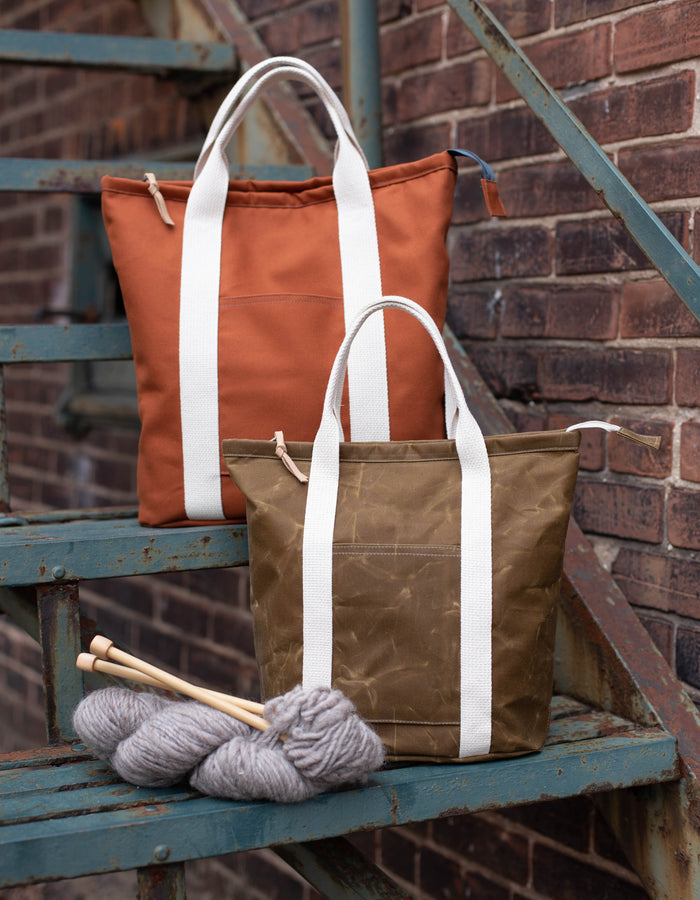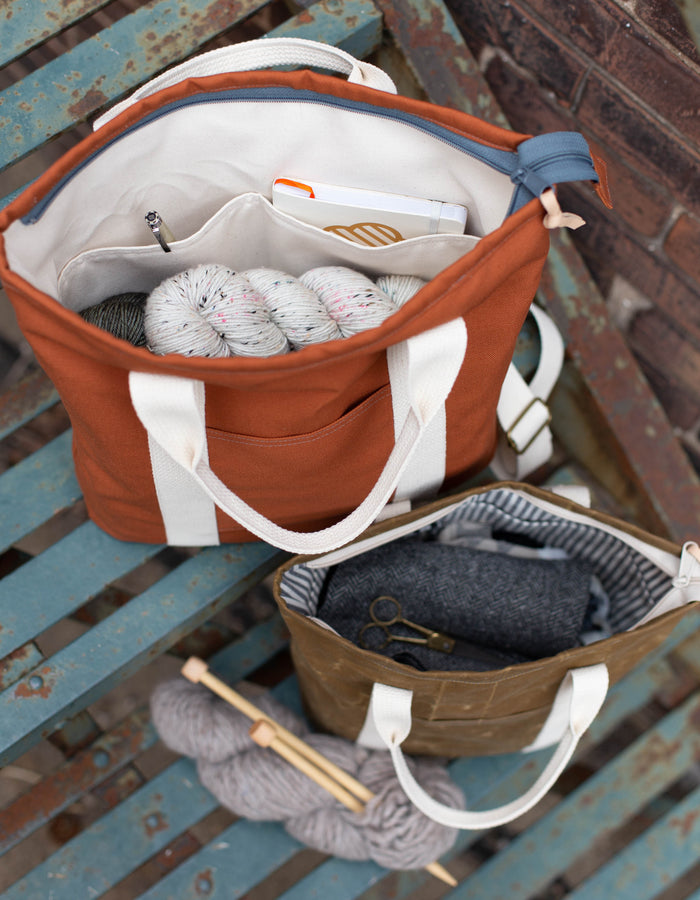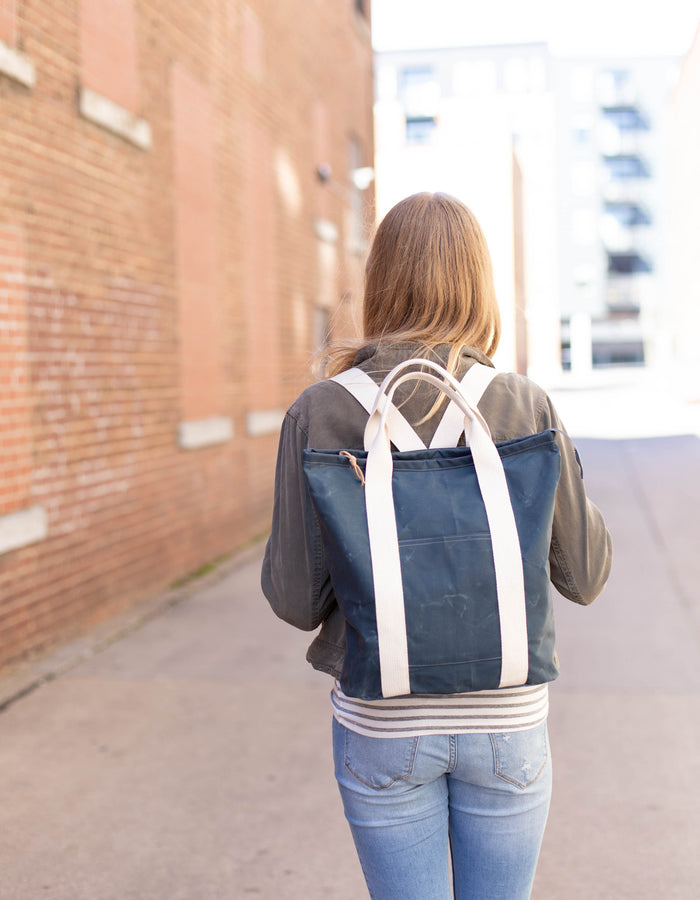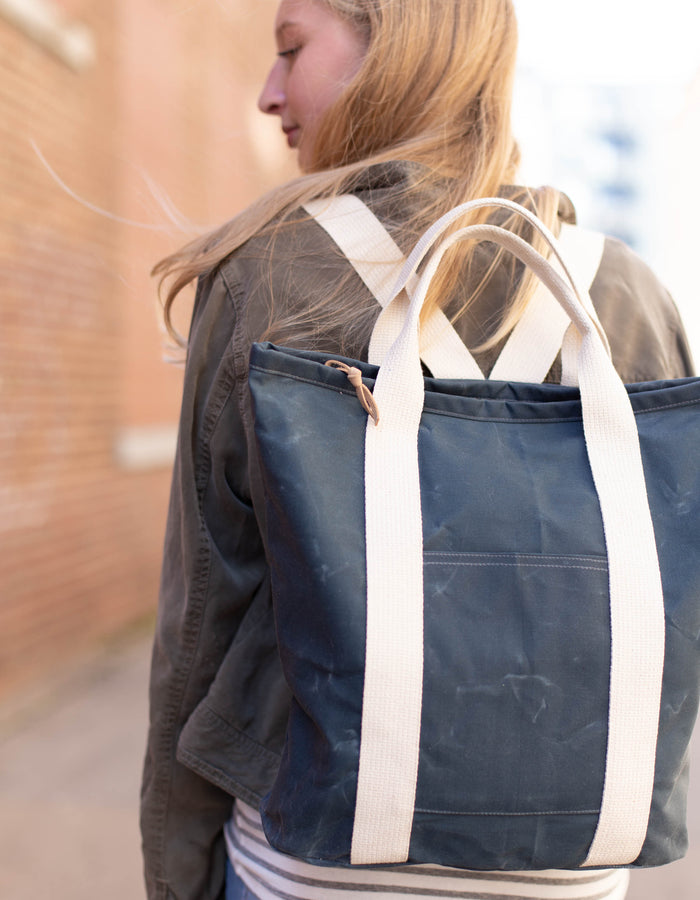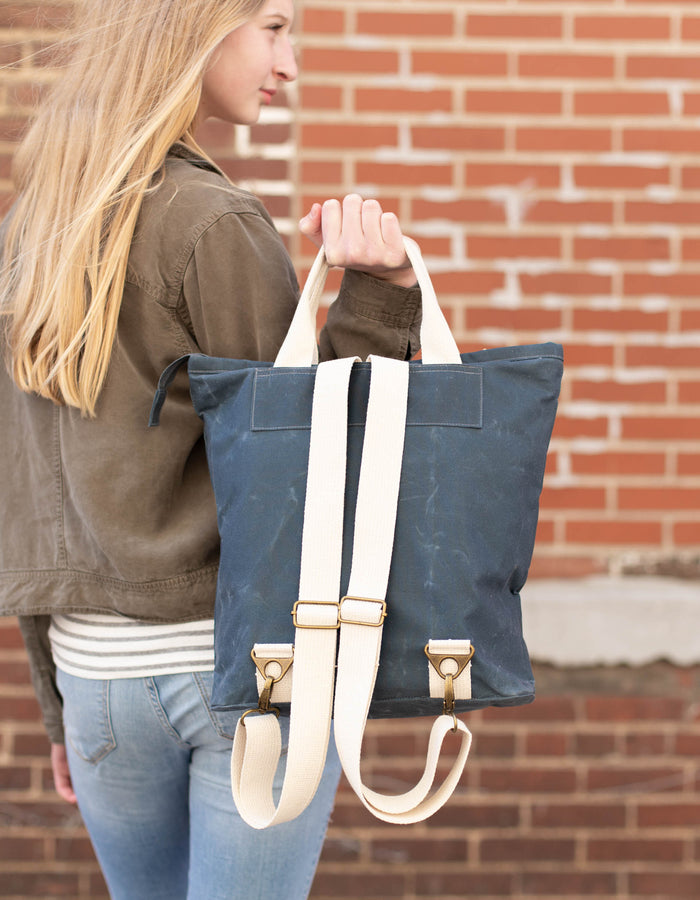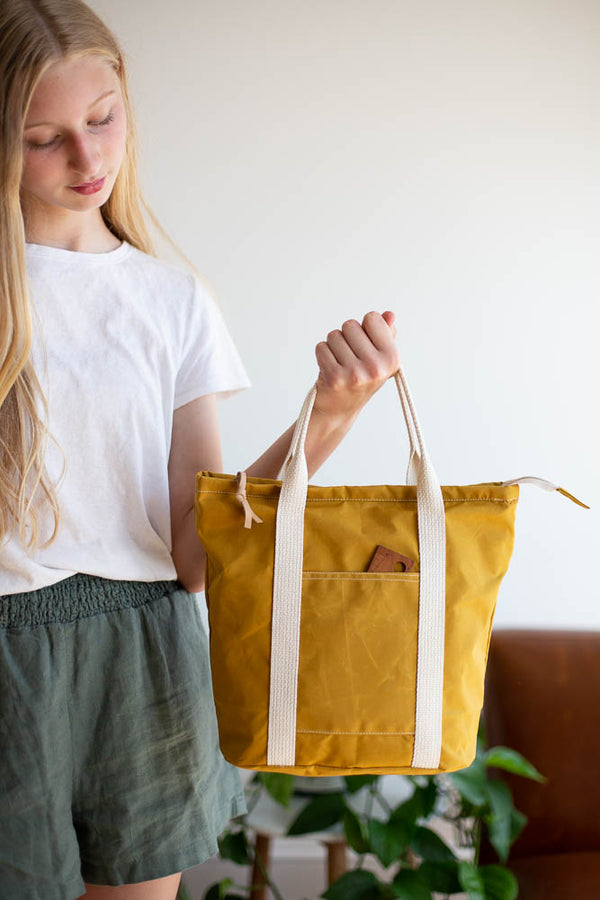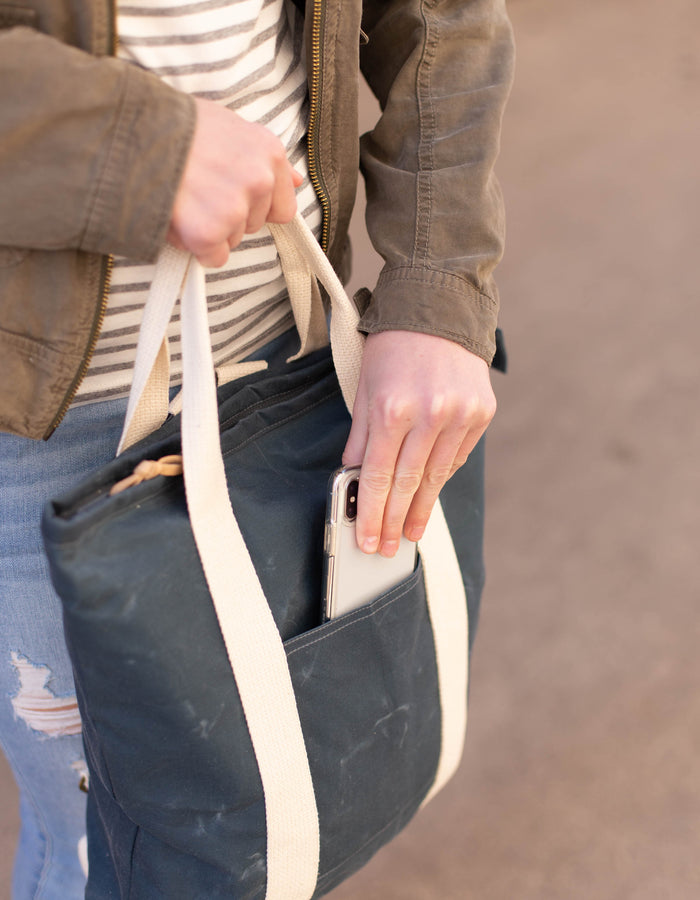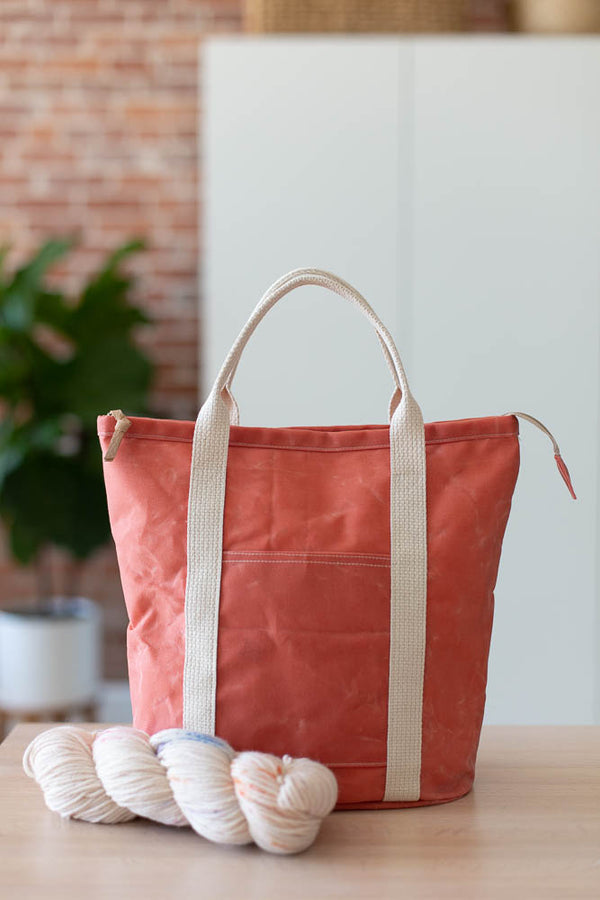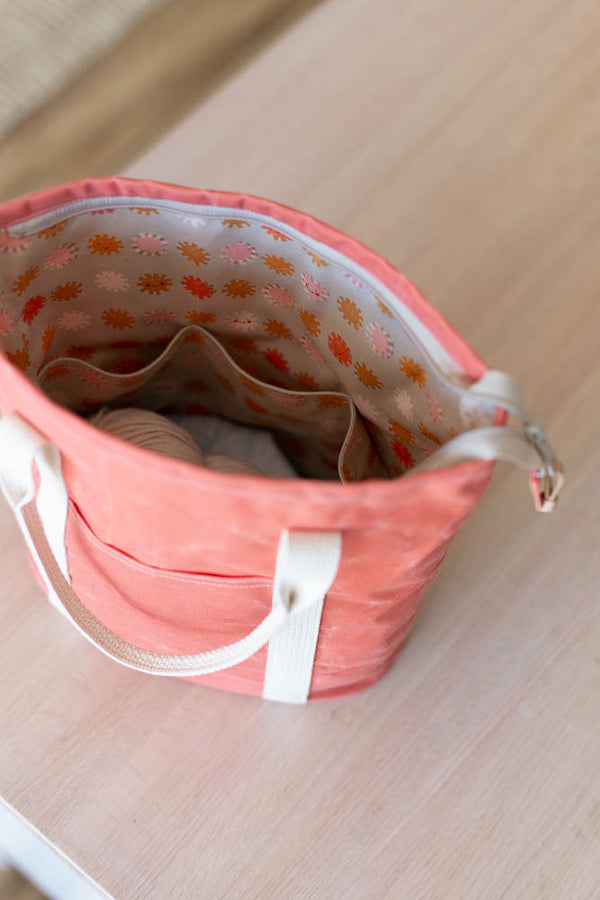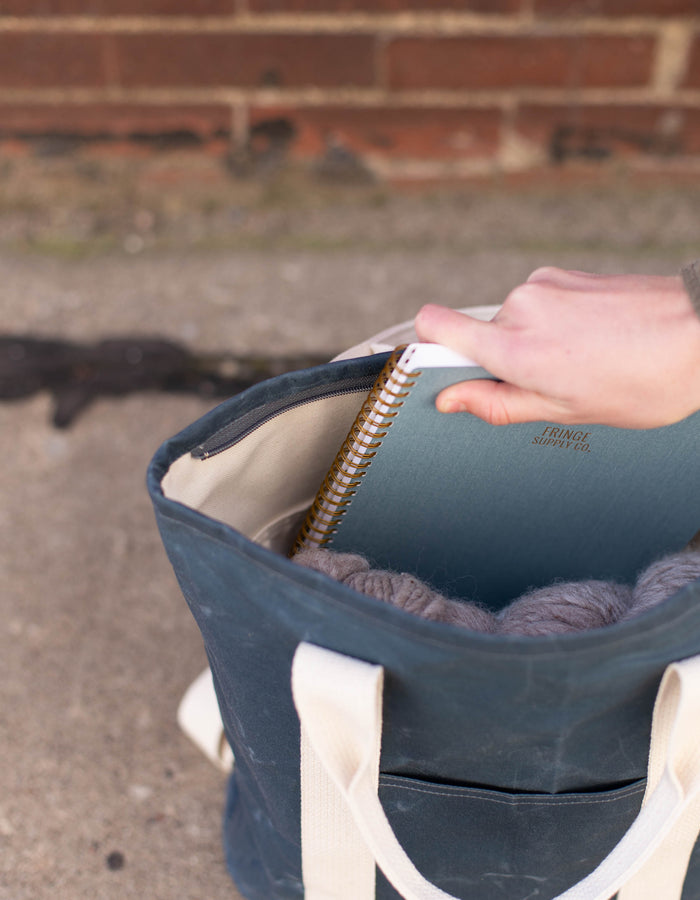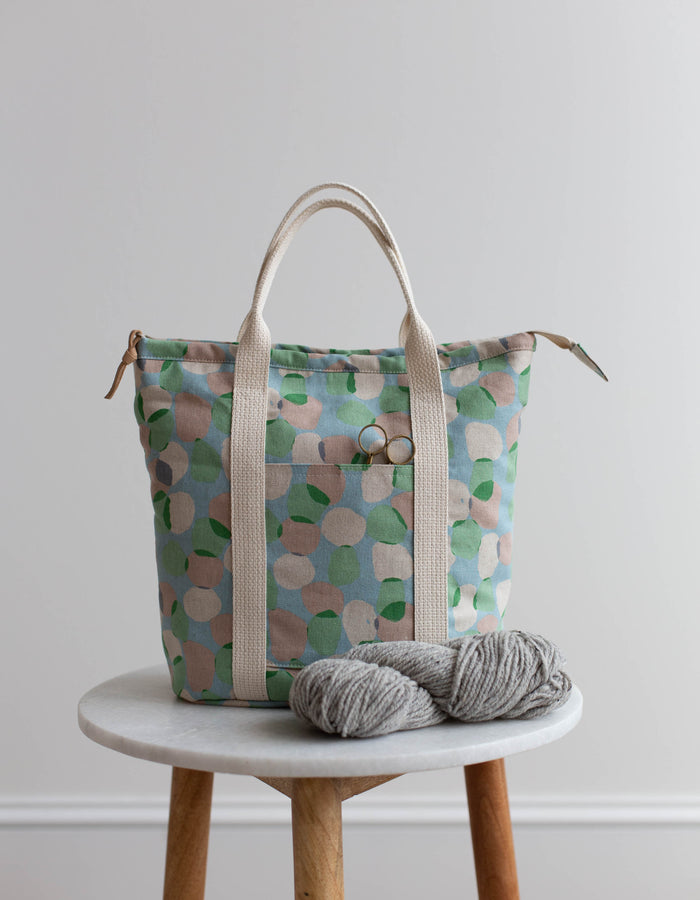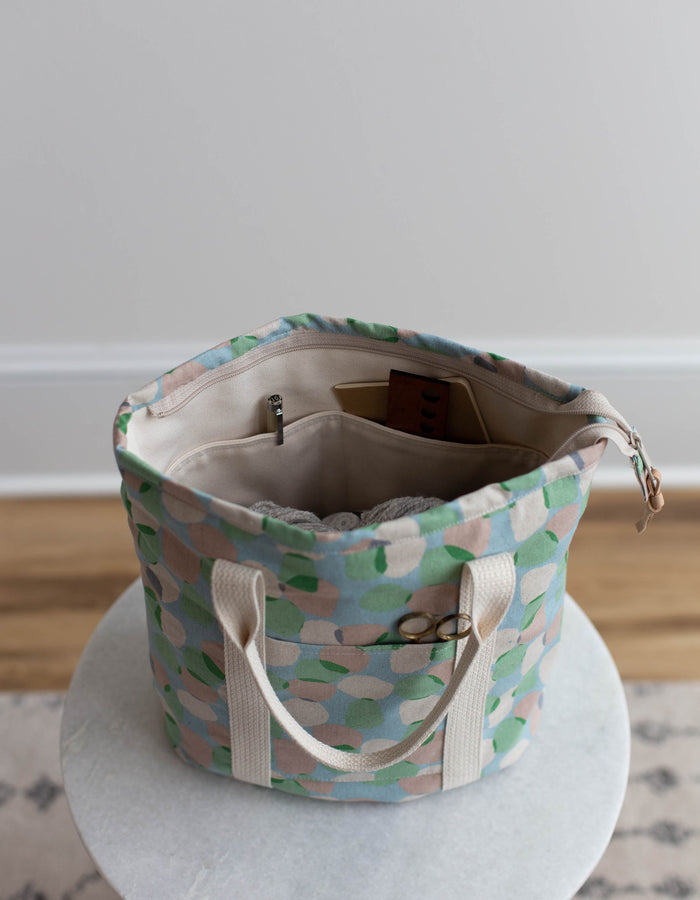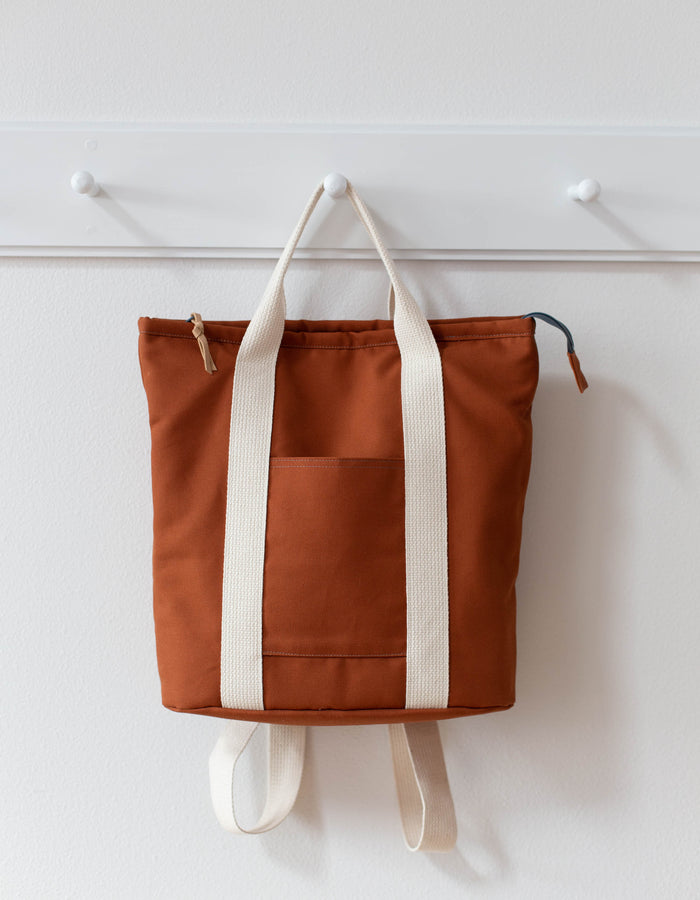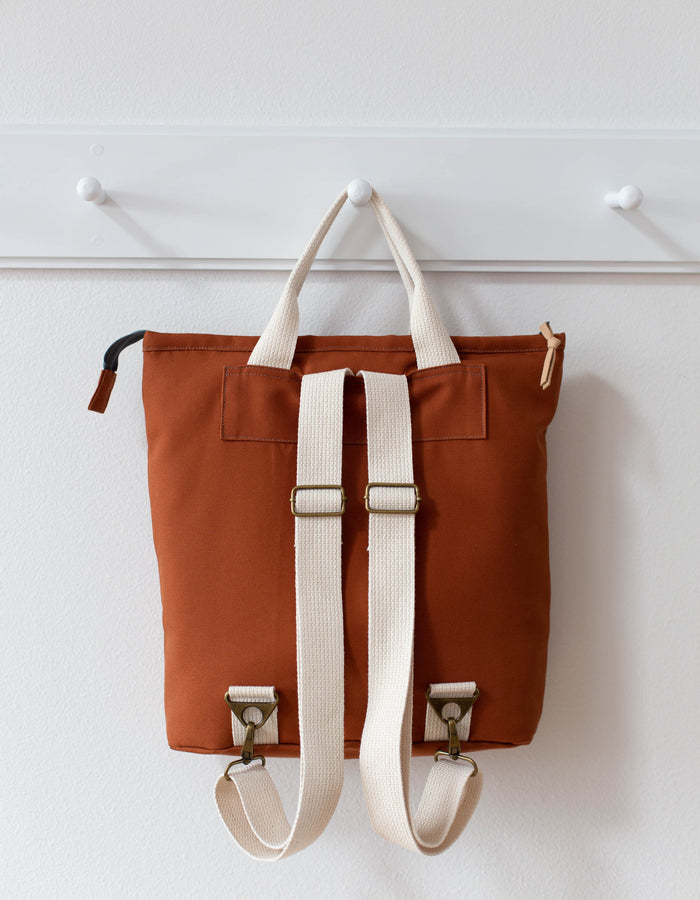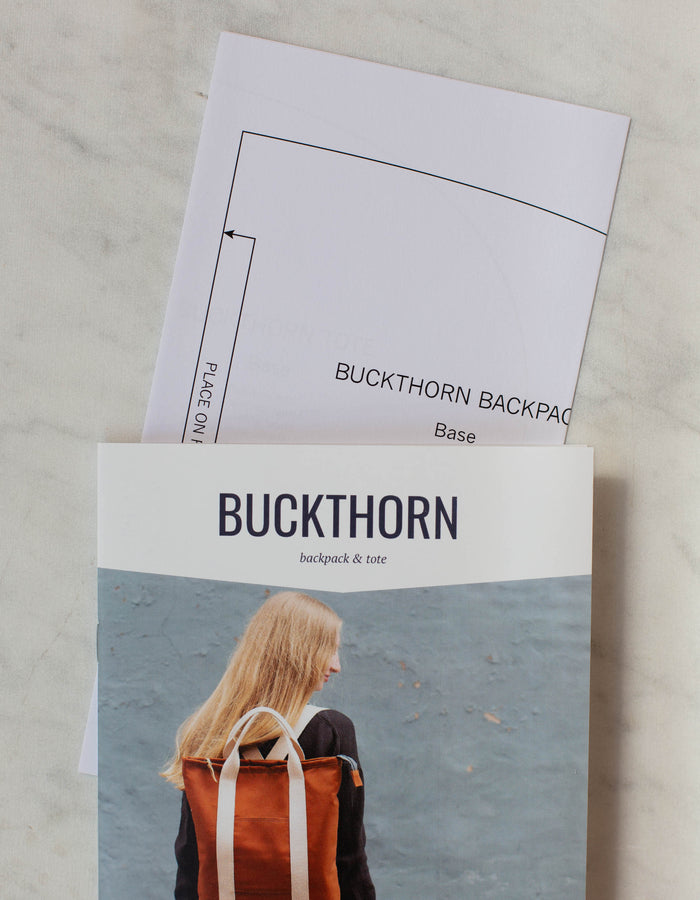 Buckthorn Backpack + Tote Pattern
You'll love this zippered top backpack and tote for everyday use. They both have a front pocket for easy access to smaller items and a flat base. A divided interior pocket keeps everything inside organized. The backpack has adjustable straps and fits tablets, small laptops, and/or notebooks! Buckthorn Tote is perfect for projects on the go.
***Video tutorial on setting the oval base.
Backpack: 
front exterior pocket, large interior pocket
zip top closure to keep your important belonging secure
adjustable straps
Tote:
front exterior pocket, large interior pocket
zip top closure
grab and go handles
perfect for projects, anything from knitting to embroidery to paper piecing and more!
Product Information:

Skill Level: Intermediate
Approx. Finished Dimensions:
Backpack: 13"/33 cm wide by 5 ½"/14 cm deep (measured at oval base), 14"/35.6 cm tall
Tote: 10 ½"/26.7 cm wide by 6 ½"/16.5 cm deep (measured at oval base), 11 ½"/29.2 cm tall
Materials needed:
Requirements based on 44"/1.1 m-wide fabric.
*****Tote requirements in brackets [ ]*****
¾ yard/.7 m [2/3 yard/ .6 m] Exterior Fabric
1 yard/.91 m [1 yard/.91 m] Lining Fabric
1 ½ yards/1.3 m [1 1/3 yards/1.21 m] Fusible Woven Interfacing (Pellon SF101-20"/51 cm-wide)
½ yard/.45 m [½ yard/.45 m] Fusible Fleece Interfacing or foam (Pellon 987-F - 44"/1.1 m -wide or byAnnie's Soft & Stable 58"/1.5 m -wide)
(1) 16"/40.6 cm [14"/35.6 cm] handbag zipper for top closure (must be 1 ¼"/3.18 cm wide)
FOR BACKPACK:
4 yards/3.7 m of 1 ½"/3.8 cm wide cotton webbing
FOR TOTE:
[2 yards/1.9 m of 1"/2.5 cm wide cotton webbing] OR substitute ¾ yard/.7 m [¼ yard/ .25 m] accent fabric (quilting cotton weight) and additional 1 ½ yards/1.3 m [1/3 yards/.3 m] of fusible woven interfacing for making your own straps/handles (instructions included)
For BACKPACK only:
(2) 1 ½"/3.8 cm-wide Triangle Rings (can substitute two 1 ½"/3.8 cm-wide d-rings), (2) 1 ½"/3.8 cm-wide Swivel Snaps, and (2) 1 ½"/3.8 cm-wide Strap Sliders

Recommended Fabrics: Canvas or waxed canvas* (7-10 oz.) for exterior fabric, quilting cotton for lining**.

* if using waxed canvas (7-10 oz.) for exterior, OMIT fusible fleece/foam and do not interface the exterior fabric pieces. The heavier the waxed canvas, the more difficult it makes this particular project to sew.
**if using canvas (8-10 oz.) for lining, reduce fusible woven interfacing requirement to ½ yard/.45 m total for backpack (Strap Reinforcement Strip & Front Pocket pieces), OMIT for tote.
Additional supplies + tools: Polyester thread, water-soluble pen/tailor's chalk, cutting mat, gridded ruler, rotary cutter, size 14 or 16 denim or Microtex needle, pinking shears

Featured Fabrics are Big Sur Canvas (Backpack), Waxed Canvas from Fabric Funhouse (Tote)
Purchasing Information:
This is a measure and cut pattern. It does include a template/pattern piece for the oval Base which will need to be printed. You will need a rotary cutter, gridded ruler, and self-healing cutting mat. Cut the pattern pieces straight from the fabric - saving time and paper. All pieces are rectangles except for the Base. If you prefer, you can transfer the cutting measurements to paper (or a template material) to create your own paper template/pattern piece for the remaining pieces.
For Digital (PDF) pattern:
Please download (and save) the pattern file to your computer!
You will have 9 download attempts, keep in mind each time you open to view the file counts as an attempt.
This PDF pattern consists of full-size pattern piece for base piece, rectangular pieces with rotary cutting instruction/measurements (no printing necessary!) for all other pieces, and includes detailed step-by-step instructions and professional illustrations.
The file is and instant download. Please be sure to check the email address you entered at checkout, the instant download link will be sent to that email address. After purchase is complete you will also be redirected to a page with the download link.
For Paper (printed) pattern:
Paper pattern version includes instruction booklet with step-by-step instructions and professional illustrations, pattern sheet for base pieces and rotary cutting instructions/measurements for all other pattern pieces (just cut and sew, no need to cut out pattern pieces), all tucked into a resealable poly bag.
Paper pattern is shipped via USPS.
Sell finished items! You (the purchaser of this pattern) can sell finished sewn items made using this pattern (on a home-based scale), credit to Anna Graham www.noodle-head.com is appreciated!
NOTICE: It may not be possible to download a PDF file directly to your iPad or Android tablet/mobile device without a download app. I use Acrobat Reader in combination with Dropbox to download files using my mobile device.
Copyright © 2020 Anna Graham, Noodlehead, Inc. All Rights Reserved.
Frequently Bought Together